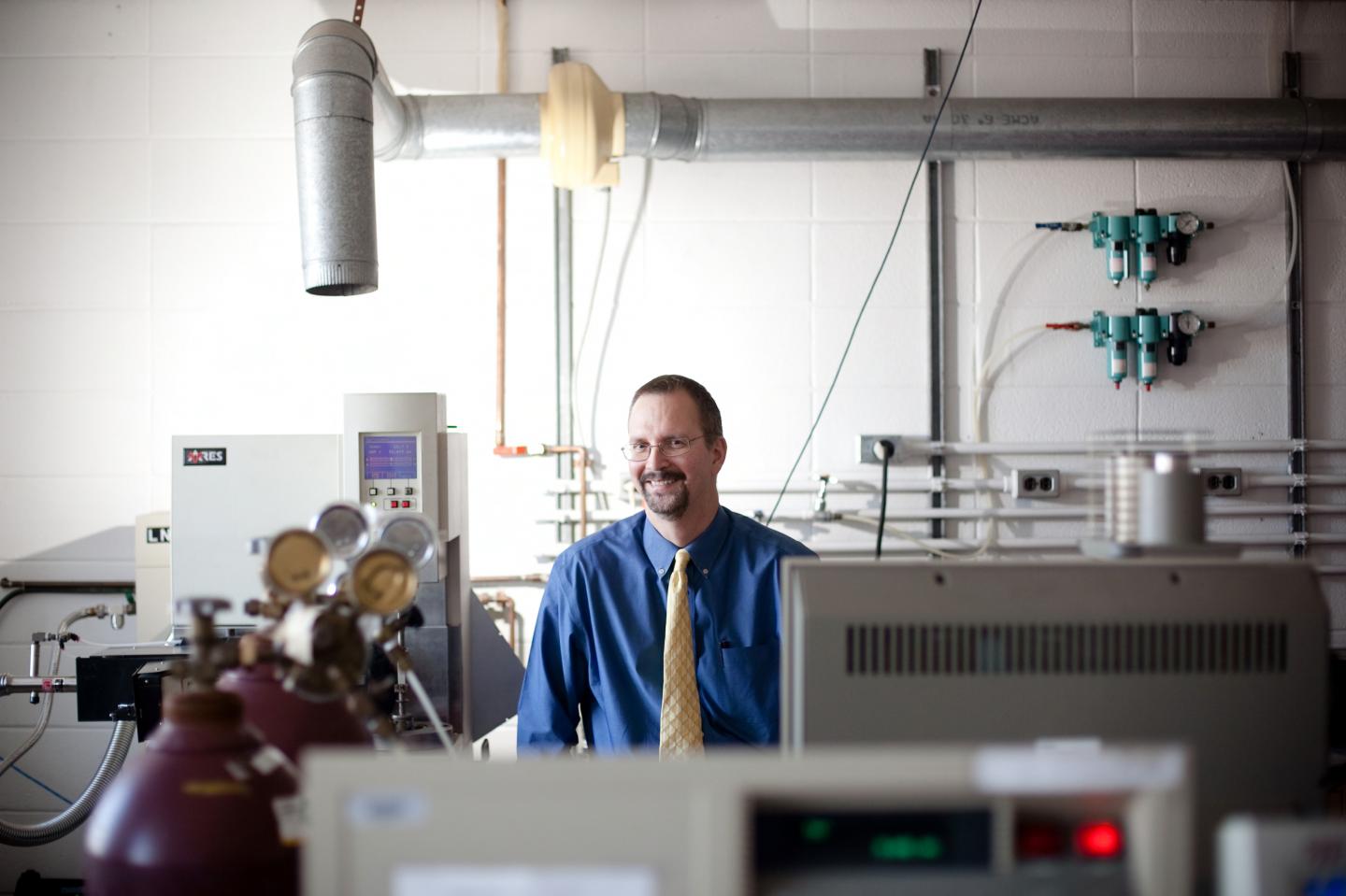 Overview
The Polymer Science & Engineering (PSE) program is an interdisciplinary graduate program with faculty from various Departments such as Chemical and Biomolecular Engineering, Materials Science and Engineering, Mechanical Engineering and Mechanics, and Physics. The Polymer Science and Engineering Graduate Program at Lehigh University is one of a handful of graduate programs in the U.S. that specializes in polymers. Please click here to watch our most recent webinar with Dr. Ray Pearson for more information about the program.
Admission
Admission requirements include: a B.S. degree in chemistry, physics, or any branch of engineering and an undergraduate GPA of 2.80 or higher.
Curriculum
The masters programs (MS and MEng) are comprised of 30 credits of graduate work. There are two core courses: MAT 392 Introduction to Polymers and MAT 393 Physical Polymer Science that all PSE students must take.  A 400-level thermodynamics course is also required.  We highly recommend taking MAT 496 Polymer Thermodynamics.
Additional requirements include:
not more than 12 credits of polymer related courses at the 300-level (includes MAT 392 and MAT 393)

at least 18 credits of polymer related courses at the 400-level

Masters of Science (MS) option requires a thesis (minimum of 3 credits of MAT 490 Thesis)

Masters of Engineering (MEng) option can be completely coursework or can include 3 credits of an engineering project (MAT 460).

Both degrees offer an option to include 3 credits of a graduate engineering elective (at the 300 or 400 level) as part of the 30 total credits.
The list of polymer related courses includes:
MAT/ME 309 Composites

MAT 409 Characterization of Polymers

MAT 417 Soft Materials: Mechanics and Physics

MAT 418 Soft Materials: Rheology and Characterization

MAT 482 Mechanical Behavior of Polymers

MAT 483 Emulsion Polymers

ME 485 Polymer Processing

MAT 485 Polymer Blends and Composites

MAT 486 Polymer Nanocomposites

MAT 487 Adhesion and Adhesives Technology

MAT 492 Polymer Coatings

MAT 496 Polymer Thermodynamics
Program Contact
Carly Campbell
Email: cacb22@lehigh.edu
Tuition & Fees
For questions regarding tuition and fees, click here.
Graduate Handbook
Check out the Graduate Student Handbook for policies regarding academics, graduate student life, etc.
Questions & Inquiries
For futher questions, inquiries, or questions regarding requirements, please contact the Graduate Coordinator, Carly Campbell at cacb22@lehigh.edu or at 610-758-4222.
Make a Connection
Lehigh Engineering offers several ways for prospective graduate students to meet online with current students and advisors. Connect with us 
here
!