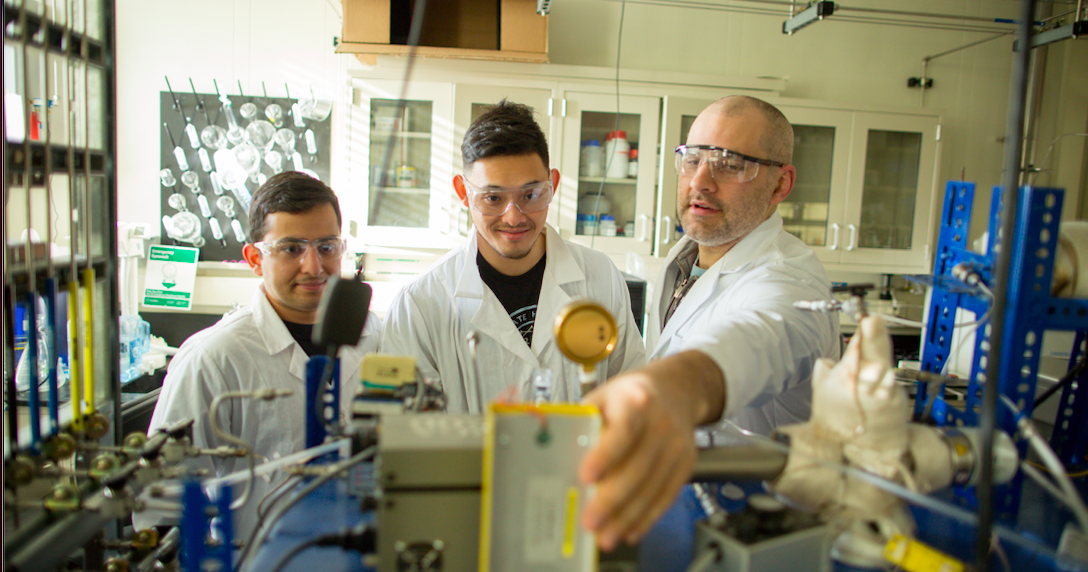 Overview
Chemical Engineering is a broad discipline that employs tools from chemistry, physics, mathematics and biology to carry out molecular transformation of low value raw materials to high added final products in a cost-efficient, safe and environmentally benign fashion. Due to this broad-based training in the application of the basic sciences, Chemical Engineers who graduate from Lehigh go on to play important roles in research and industry. They enjoy careers in diverse industries in chemical and petrochemical processing, biopharmaceutical, materials and electronics manufacturing, energy generation and distribution, environmental remediation, process automation and more recently, in new product design.
Admission
The program is open to students with an undergraduate degree in Chemical Engineering from an accredited institution. However, students with appropriate background are encouraged to apply. Applicants with a degree other than Chemical Engineering will be required to take the bridging course, Fundamentals of Chemical Engineering III, CHE 383; and depending on their background, an additional course may be required. These courses will not count toward degree requirements. Fundamentals of Chemical Engineering III, CHE 383 is a summer semester course offering. Therefore, we encourage applicable candidates to apply for summer admission.
There are no required examinations such as GRE, GMAT, etc. In addition to the requirements outlined in the admissions application (official transcripts, professional essay, your resume, and 2 letters of recommendation), a personal essay summarizing your career objectives and work experience with respect to your chosen field of study must be submitted along with the application for admission. In order to be considered for admission as a regular graduate student in the Master of Engineering in Chemical Engineering, the applicant must have an undergraduate GPA of 3.0 or higher and a GPA of 3.0 or higher for the last two semesters of undergraduate study. 
If not provided electronically to the email address below, transcripts can be mailed directly to the Chemical and Biomolecular Engineering Department.
Associate Student Status
Curriculum
Core Courses:
CHE 410 Chemical Reaction Engineering (3)
CHE 452 Mathematics Methods in Chemical Engineering (3)
CHE 415 Transport Processes (4)
CHE 495 Thermodynamics (3)
Electives: The elective courses will be selected in conjunction with the student's advisor from numerous electives offered throughout the program. These can include various specialization courses in areas such as Polymer Science and Biotechnology. Other elective courses can be offered in Process Control, Mass Transfer, Semiconductor Materials Processing, Heterogeneous Catalysis and Surface Characterization, Air Pollution, Emulsion Polymers, Polymer Interfaces, and Polymer Blends and Composites. This elective list is preliminary and shown for information only. There is no relationship to the order they appear above and when they might be scheduled.
Requirements
Minimum of 30 semester hours of graduate work at 300- or 400- level
The four core courses which are listed below
Minimum of 18 hours of coursework at the 400- level
Minimum of 18 hours in the field of Chemical Engineering
Minimum of 15 hours of 400- level coursework in the field of Chemical Engineering
Program Director
Professor Jonas Baltrusaitis
Phone: 610-758-6836
E-mail: inchbede@lehigh.edu
Tuition & Fees
To learn more about tuition and fees, click here.
Questions & Inquires
For further questions, inquires, or questions regarding requirements, please contact Dr. Baltrusaitis at inchbede@lehigh.edu.
Make a Connection
Lehigh Engineering offers several ways for prospective graduate students to meet online with current students and advisors. Connect with us 
here
!