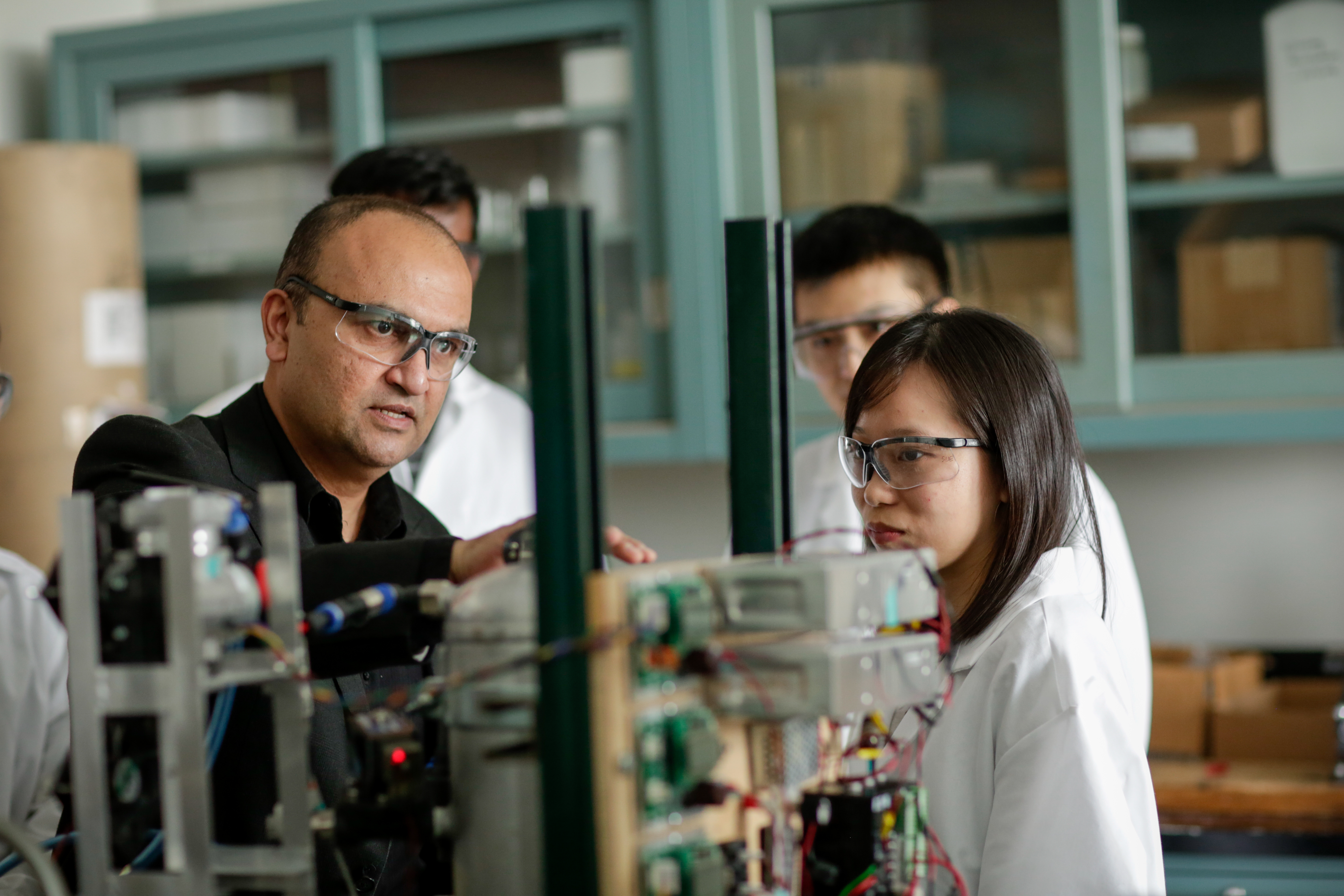 Overview
The integrated Master of Engineering Chemical Energy Engineering online degree program has an innovative curriculum designed for professionals seeking to gain an in depth technical understanding and a global perspective of chemical energy engineering practice. The mission of this program is to produce professionally-oriented graduates who have both an in-depth technical understanding and a global perspective of chemical energy engineering practice.  Graduates from this program will have the skills to identify, evaluate and manage cost and performance decisions throughout the major stages of energy industry.
Admission
In order to be considered for admission as a regular graduate student in the Master's of Engineering in Chemical Energy Engineering, an applicant must have an undergraduate cumulative GPA of 3.0 or higher and a GPA of 3.0 or higher for the last two semesters of undergraduate studies.  In addition to the minimum requirements, an applicant must have at least two semesters of calculus.  Applicants with a degree other than Chemical Engineering will be required to take the bridging course, Fundamentals of Chemical Engineering III, ChE 383; and depending on their background, an additional course may be required.  These courses will not count toward degree requirements. Fundamentals of Chemical Engineering III, CHE 383 is a summer semester course offering. Therefore, we encourage applicable candidates to apply for summer admission.
International applicants must submit TOEFL scores.  A personal essay summarizing your career objectives and work experience with respect to your chosen field of study must be submitted along with the application for admission.
Applicants that don't meet the above mentioned requirements may be admitted as associate status, at the department's discretion.  To change status you will need to contact the academic graduate coordinator of the department after admission.
A maximum of up to nine credits taken at the graduate level elsewhere may be transferred from an accredited graduate college or graduate university to a Lehigh University Engineering Master's program.  All courses must be submitted to the department along with a course description (syllabus), a letter from the university stating that the credits were actual graduate level courses, and not used toward a previous degree, and also an official transcript if not already provided.
Curriculum
Required Core Courses:
CHE 376 Energy:  Issues and Technology (3)
CHE 452 Mathematics Methods in Chemical Engineering (3)
CHE 410 Chemical Reaction Engineering (3)
CHE 495 Thermodynamics (3)
CHE 415 Transport Processes (4)
 
Group A:  Elective CHE courses (minimum 6 credits)*:
CHE 331 Separation Processes (3)
CHE 430 Mass Transfer (3)
CHE 396 Electrochemical Engineering (3)
 
Group B:  Elective CHE courses:
CHE 386 Process Control (3)
CHE 413 Heterogeneous Catalysis and Surface Characterization (3)
CHE 391 Colloid and Surface Chemistry (3)
CHE 428 Rheology (3)
CHE 401 Chemical Engineering Thermodynamics II (3)
 
Non-Departmental Elective Energy Courses (minimum 3 credits):
ISE 410 Design of Experiments (3)
ME 362 Nuclear Fusion and Radiation Protection (3)
ISE 426 Optimization Models and Applications (3)
ME 364 Renewable Energy (3)
ISE 455 Optimization Algorithms and Software (3)
ME 366 Engineering Principles of Clean Coal Technology (3)
ME 360 Nuclear Reactor Engineering (3)
 
*More new courses with two to three credits will be added 
Other Non-Chemical Engineering electives and Business Economic courses from the College of Business can be used as approved by the graduate advisor.
Requirements
The master's degree in Chemical Energy Engineering is a 31 credit hour program.  It is comprised of 16 credit hours of core chemical engineering courses, 6 credit hours of electives from Group A, no less than 3 credit hours from Non- Departmental elective energy courses, with the remaining 6 credit hours to be chosen from either Group A or B, or non-departmental electives based upon student interest (see below curriculum) at the following levels:
Not less than 31 credit hours of graduate work at 300- or 400-level
Not less than 18 credit hours  in the field of Chemical Engineering
Not less than 18 credit hours  of coursework at 400-level
Not less than 15 credit hours of 400-level coursework in Chemical Engineering
Students choose their coursework and complete their degree requirements by selection of any set of courses consistent with these requirements.  Once accepted, the Master's degree performance requirements will apply as follows:
No course with a grade below a "C-" may be included in the degree program
More than four grades (regardless of number of credits) below "B-" terminates the student's eligibility for continued graduate work at Lehigh
Program Director
Professor Jonas Baltrusaitis
Phone: 610-758-6836
E-mail: inchbede@lehigh.edu
Tuition & Fees
To learn more about tuition and fees, click here.
Questions & Inquires
For further questions, inquires, or questions regarding requirements, please visit email Professor Jonas Baltrusaitis at inchbede@lehigh.edu.
Make a Connection
Lehigh Engineering offers several ways for prospective graduate students to meet online with current students and advisors. Connect with us 
here
!